Trail Directory Page - Maps & General Info
What Is Covered Here
Please be advised that this site deals only with the Pigeon Creek NRT system. You may find trails that are not documented here when out on Pigeon Creek trails. Example: Trail 204 is a Connector trail that leads to an adjoining trail system.
Selecting Trails
For photos, descriptions, and maps for each trail click the trail number in the trail list below. At the bottom of each trail page you'll see links to the maps for each specific trail. The easiest way to use the trail system is to print out the main trail system map. Park at one of the two trail heads, then follow the map to the trails of your choice.
Trail Maps
There are two types of maps for each trail on this Web site. The first type is an Outline Map, the second type is a Topo Map (topographical). Any one of them can be printed out, but your best bet is to print out one of the maps showing the entire trail system. You will need to use 8.5 x 14 inch paper! The outline maps are much easier to follow and load faster, but they do not show the detail of the topo maps. Topos are provided primarily for serious racers who require terrain detail.
Clickable Links Within Maps
In any of the maps you can click a trail numbers and parking lot symbols (big red "P") for details.
Trail Information - Click trail number for details on specific trails
Beginner Level Trails

Trail
Number

Length
in Miles

Trail
Description

0.8

short and easy, lake views, starts at east trail head

0.5

short and easy, tall pine forest, starts at west trail head

0.6

old logging road, popular trail, wide, gentle, starts off #201,

Intermediate Level Trails

1.7

a bit of everything, technical for bikers, popular with hikers

0.7

pure mountain bike bliss!

1.0

popular with hikers after a short walk, lots of Ozark flora

2.0

fast, fun, a true MTB race course, popular with robust hikers

0.8

very pretty, but a tough challenge

1.2

extreme and mean, right for those who want to rock and roll!

1.5

a mile ride downhill, a great Ozark hike or bike

1.5

a hillside cling with great lake views
Trail Maps
Please Note!
The Pigeon Creek NRT is constantly being expanded. We will strive to keep this site current as additions to the system are documented.
Download time for maps at 56K is 8 seconds for outlines, 30 seconds for topos

Map #1 - trails 201, 202, 203, 204
Outline
Topo
Map #2 - trails 100, and 1st half of 101
Outline
Topo
Map #3 - 2nd half of 101, 1st half of 102 & 103
Outline
Topo
Map #4 - trail 104
Outline
Topo
Map #5 - trails 105, 106
Outline
Topo
Map #6 - entire trail system ( 60 second download)
Outline
Topo
Map #7 - printable versions, entire trail system
Outline
Topo
Map #8 - location / driving map
Web page
Print version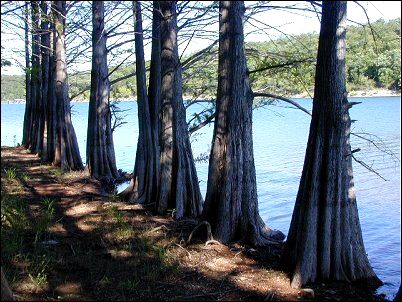 Cypress grove on Lake Norfork near trails