Family Reunions - Company Retreats - FREE Wireless Internet


A family that fishes together - stays together

Great Accommodations!
Very clean cabins overlooking the beautiful North Fork River
Great Fishing!
Rainbow, Brook, Brown & Cutthroat Trout
15 Minutes South of Mountain Home, Arkansas
Resort Information: 1-870-499-5381
Reservations Only: 1-800-526-3625
Reservations can be made between
7:00 am and 7:00 pm central time
7 days a week. Ask for Scotty
E-mail: genes@mtnhome.com
At Gene's Trout Fishing Resort You'll Enjoy:

One, Two, & Three Bedroom Riverfront Cabin Accommodations
Two Story Grand Suites 19-20 With Pool Table - Gas Fire Place
Two Story Lodge #10 With Pool Table - Gas Fire Place
Three Story Riverfront Lodge #7 With Pool Table
Smoking & Non-Smoking Cabins Available
Very Clean - Pet Friendly Accommodations

Satellite Television In Each Cabin
Bait & Tackle Shop With ATM
Guided Trout Fishing Trips
FREE Wireless Internet In All Cabins
Jon Boat & Motor Rentals
Fishing Licenses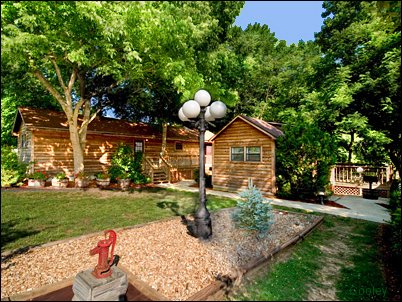 Gene's Resort - Cabin 4 on left, Cabin 3 on right
Gene's Accommodations
The entire property of Gene's Trout Fishing Resort overlooks the beautiful North Fork River. All the Cabins, Lodges, and Duplexes (CLDs) at Gene's Trout Fishing Resort have central heat and air, fully equipped kitchens, and modern bathrooms/showers. Some cabins have bath tubs. All have cooking and eating utensils, automatic drip coffee makers, microwave, stove top (some cabins have ovens), toasters, drinking glasses, and coffee cups. All CLDs are fully equipped with bed and bath linens. This includes sheets, blankets, bed spreads, pillows, bath towels, face towels, and wash cloths. All CLDs have color satellite television. All CLDs have a patio or wooden deck on the outside with a charcoal barbecue grill.
Fishing The North Fork River
The North Fork River flows from the Norfork Dam four and a half miles to the White River. The White River then travels down the entire state of Arkansas and flows into the Arkansas River. The Arkansas River then flows 5 miles east to the Mississippi River. The North Fork River holds many state trout records to include a previously held 38.9 lb. German Brown Trout and a 5 lb. Brook Trout. Rainbow and Cutthroat Trout are also common. The cold temperatures of the North Fork River range from 47-54 degrees year round as this water comes from 90 feet below Lake Norfork. Swimming in the North Fork River is not encouraged. The cold water and water flows from the Norfork Dam turbines can be very dangerous.
Guided Bait Fishing Trips
If you have no boating experience on the North Fork River, we suggest that you reserve a guide with us. Full or half day guided fishing trips will ensure a safe and enjoyable day. Gene's Resort supplies night crawlers, corn, and bait fishing rods/reels at no extra charge on all guided bait trout fishing trips. Of course you may bring your own tackle (rods/reels) and permit the guide to set up your tackle accordingly.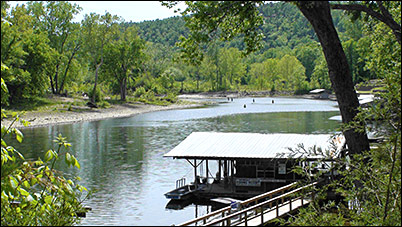 Wade fishing just below Genes dock

Guided Fly Fishing Trips
If you are an experienced fly fishing angler, or just starting to learn this technique, Gene's Resort can place you with a professional fly fishing guide. Our guides have spent over 15 years understanding the North Fork River and its diverse subsurface ecology. Casting instructions, fly selection, and the identification of trout food (aquatic insects) are included in all fly fishing prices. Wade or drift fishing varies depending on water levels. Please bring your own waders and fly rod/reel. We suggest you have a 5 to 6 weight floating line. Gene's Resort will supply the appropriate flies and leaders for the North Fork River. At the end of any guided trout fishing trip, your guide will be glad to clean (filet if requested) and sack your trout. Ask us about the Catch and Release Trout Programs to receive a Catch & Release Pin and Certificate.

Jon Boat & Motor Rentals
Gene's Trout Fishing Resort is offering half and full day boat and motor rentals in our fleet of Jon Boats. You can rent a Jon Boat with motor ranging from 8hp (2 people) OR 9.9hp or 15hp (3-4 people). All boat/motor rentals include swivel seats, mixed fuel, life preservers, two anchors, two nets, one flotation cushion, and two paddles. Click here to see our rates.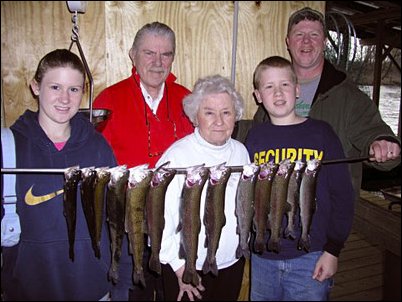 Generations of families enjoy fishing together
Office & Store
Gene's Resort sells resident and non-resident fishing and hunting licenses, trout permits, ice, soda, water, bait, tackle, candy, charcoal and lighter fluid, shirts, hats, sunglasses, disposable cameras, and key chains.
Free Wireless Internet Access
Gene's Resort is proud to offer you free Wireless Internet Access. Bring your own wireless computer, laptop, or notebook and have free wireless access to the internet directly from the quite comforts of your cabin. If you do not have a wireless computer, Gene's Resort has a laptop in the office for your rental use.

A Division of North Fork River Resorts, Inc

Gene's Trout Fishing Resort
On The North Fork River
Gene's Trout Fishing Resort
324 River Acres Drive
Salesville, Arkansas 72653-9796
Resort Information: 1-870-499-5381
Reservations Only: 1-800-526-3625
Reservations can be made between
7:00 am and 7:00 pm central time
7 days a week. Ask for Scotty
E-mail: genes@mtnhome.com

© Copyright 1996-2015 North Fork River Resorts, Inc. All rights reserved.